You might have just heard about ALTIUS® performance tinted contact lenses, but we've been in the making for a long time! Perhaps you've heard of a product called Nike MaxSight? MaxSight found success in athlete performance vision in the early 2000's. 
Remember seeing these lenses on your favorite athletes? Well, they're back and better than ever! Let's dive into the history of ALTIUS and how we went from MaxSight to where we are today. 
It all started back in 1990 when ALTIUS Founder, CEO, and Chief Science Officer Dr. Alan Reichow, OD, MEd, FAAO, and colleagues at Pacific University College of Optometry began research on eye glare black. That's the smear of black you'll find athletes wear under or around their eyes. Their research showed Eye Glare Black can help to improve an athlete's vision by reducing the sun's glare reflected off skin.  Turns out, there is an even better option.
Dr. Al and colleagues continued research on sports performance vision for another 8 years before embarking on creating performance tinted contact lenses, a potential solution for the ultimate in performance eyewear. Dr. Al, with his partners at Paragon Vision Sciences, determined the ideal tints to include in a contact lens which absorbed harmful UV, virtually all harsh Blue Light, and transmitted right Quantity (Visible Light Transmission) and Quality (Spectral Transmission Curves) for maximal visual comfort, clarity and quickness.  
All that means is that they think they engineered the right tints for athletes to see the game better AND protect their eyes. Over the next several years, they started testing the tints on athletes at Pacific University in Forest Grove, Oregon. 
In 2000, longtime Pacific University baseball coach, Greg Bradley, became the first coach to try the lenses that were called SportsSight. His immediate reaction… 
"I've never seen the ball and seams that distinctly before. You can put those lenses on all my players." And they did! 
Over the next few years, the team continued to study the lenses and the experience of the Pacific University baseball team using them. This garnered some local media attention… which sparked the interest of a very large local company. 
This began a partnership between the team at SportsSight, Nike, and Bausch + Lomb. SportsSight became MaxSight… a vision performance solution for anyone, even those not needing any vision correction.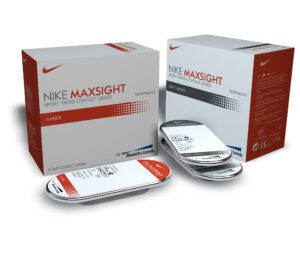 In 2005, MaxSight was officially launched at the American Optometry Association Annual Convention in Dallas, Texas. MaxSight was a monthly replacement lens, which meant that it required proper cleaning, disinfection and storage between uses. It didn't take long for eye care professionals to see the value in this product. 
In fact, MaxSight made such a big splash that it was recognized by TIME magazine as "One of the Most Amazing Inventions of 2005."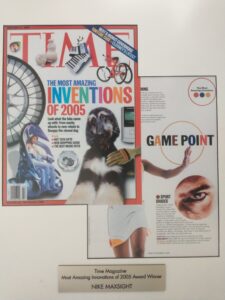 Interestingly, in spite of the "Hassle Factors" of Maxsight, over 60% of MaxSight users were those that did not require vision correction, and had never worn contact lenses before. 
Despite great success, outstanding testimonies, and media coverage, MaxSight came to an early end. Due to a contact lens solution contamination issue at Bausch + Lomb, completely unrelated to MaxSight, Nike didn't feel comfortable continuing the product. There was too much risk in the endeavor to continue. 
But that didn't stop the team that would become ALTIUS, which means "Higher" in Latin. 
With continued demand for performance tinted contact lenses, and all the science behind it, the team knew this product could stay alive… and get better! So, the team embarked on a new mission to create a single-use disposable lens that would be far easier and safer for users. 
After almost a decade of research and development, the new and improved ALTIUS brand was created, with a product that would provide all the amazing benefits of MaxSight with even more convenience, protection, and visual clarity. It was designed with a much improved lens material and with parameters that provided improved ease of handling and comfort when applied to the eye, especially important with all the first time contact lens users who had no vision correction need. 
Today, we're proud to continue the mission of providing the best in vision performance for athletes and anyone that wants to See Better, Feel Better, and Play Better! 
The ALTIUS team continues to conduct research on the lenses, including how they can support relief from photosensitivity often associated with migraines, concussions, and traumatic brain injuries. With a growing focus by eye care practitioners on these conditions, ALTIUS is gaining use as a new and improved solution to light sensitivity symptoms.  
Stay connected with us as we continue to evolve and try ALTIUS for yourself! 
Check out our provider page to find an eye care professional close to you, or contact us for more information on how you can benefit from using ALTIUS.