Our lenses are designed to provide greater visual performance, but they may also be a great recovery tool for anyone experiencing photosensitivity as a symptom of migraines, concussions, or traumatic brain injuries. Photosensitivity, and the lack of adequate options to treat it, often makes recovery from injuries like these more difficult. When we heard the inspiring story of Michael Hull, and how he found relief with ALTIUS®, we knew we had to share it. 
Michael Hull is a husband and father to two young girls. To celebrate the momentous occasion of turning 40, he decided to start racing in Ironman competitions. He had done some extreme endurance training before jumping into this. He had already completed a dozen half marathons and 3 full marathons. But, the Ironman was the next level of challenge for him. 
He completed two Olympic distance triathlons and a half Ironman, which includes a 1.2 mile swim, a 56 mile bike ride, and 13.1 mile run. He's currently training for the full Ironman - 2.4 mile swim, 112 mile bike ride, and a full marathon run of 26.2 miles. 
Not only was Michael consistently improving his time and enjoying the training and competition of the races, but his girls also loved it. It became a family event, everyone supporting dad as he challenged himself in these extreme endurance races. 
Everything changed on February 8, 2023. Just like any other day, Michael got up early before work to train. It wasn't an intense session for him, just a relatively easy (for him) 90-minute bike ride. Well, that bike ride would be anything but easy. 
Moving at high speed, he hit an unexpected bump that launched him off his bike. The accident resulted in a severely broken clavicle, which sent him into surgery shortly after. The doctors considered that he may have also had a concussion, but the immediate concern in those first few days was fixing the severely broken bone.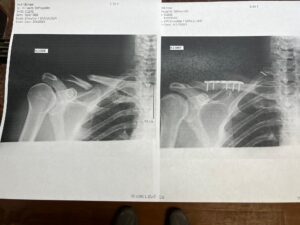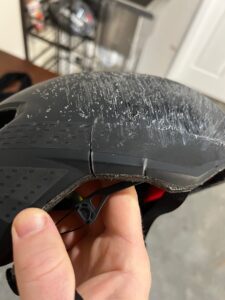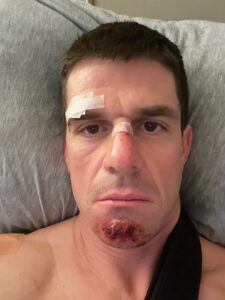 As his clavicle healed, Michael went back to life as usual - mostly. He went back to work. He spent time with his family. However, one week after the crash he was faced with unbearable pain in his head. Suddenly, he couldn't look at screens. The sound of his young daughters walking around the house felt like thunder in his head. His head was heavy and doing most things became almost impossible.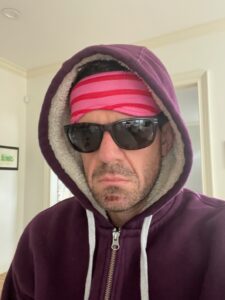 When his head started to hurt, the rest of his body went into stress. His low resting heart rate jumped up from low 50s to the 90s. He put his head in his pillow, wore sunglasses, eye covers, ear covers, you name it. He limited his time on devices because he just couldn't handle the pain. It became difficult to work, and just to live his life. 
The problem with concussions is that they're a hidden injury, but often much more difficult than any other physical injury in terms of recovery. There aren't a lot of options for treatment and they can go unnoticed and undiagnosed. For Michael, it was clear he was suffering from symptoms of a concussion from his accident. But, how could he find relief? 
That's when Dr. Kathy Weise came in. Dr. Weise is a professor and highly respected clinical and research optometrist at the University of Alabama at Birmingham. After prescribing ALTIUS lenses for many of her athletic patients for performance, as well as for photosensitivity related to migraines and concussions, she hoped that these lenses could provide the healing support Michael needed. 
He had already started seeing an orthopedic doctor for concussion protocols, but nothing was giving him the relief he desperately needed - until he put on the ATLIUS lenses. He tried covering his eyes with sunglasses, but the light leakage that inevitably happens with sunglasses doesn't allow for a full relief from light. With ALTIUS lenses, your eyes are completely covered with the protective lenses that filter out all of the UV, and block out the harsh blue light that may have been the triggers for the pain and irritation that Michael was experiencing. 
Now, Michael was not a contact lens wearer. Wearing contact lenses was foreign to him, but he was willing to try anything to feel better. He describes the feeling of the lenses as instant relief. It felt like a security blanket. Finally, he could feel the release of the pressure in his head. He could see, he could drive a car, he felt calm for the first time in weeks. 
In addition to the feeling of relief Michael experienced, Dr. Weise likes the ALTIUS lenses for another reason. As an unexpected benefit, the grey-green or amber ALTIUS lenses are more visible on the eye than clear contact lenses. While the ALTIUS lenses provide protection and relief for the user, they are also readily apparent to others around them. As Dr. Weise explains, because concussions are invisible injuries, friends and family of a person who has had a concussion aren't always aware of the extent of debilitating symptoms the sufferer is experiencing. There may be feelings of brain fog, light sensitivity, fatigue, headache, and dizziness. However, since there is no cast, sling, or splint for a person's concussed head, many others fail to recognize a person who is trying to heal his or her injured brain. The amber or grey-green coloring provides a visible indicator to others that the concussed person requires treatment to aid in concussion recovery.
For 3 weeks straight, Michael wore the daily disposable lenses. He wore them to work, he wore them around the house, he wore them until right before he fell asleep at night. He tried not wearing them, and immediately felt the pain in his head resurge. He'd feel nauseous, and the headache and heaviness in his head would return. It was clear that these lenses were exactly what he needed to feel normal again and allow his head to heal. 
After those 3 weeks, Michael returned to life as normal. Even though he no longer felt like he needed the lenses for relief from his concussion symptoms, he did continue to wear the lenses for other reasons. When describing the accident itself, he believes it could have been avoided if he had the proper visual clarity. If he had been able to see the bumps, with the visual sharpness that ALTIUS lenses provide, he could have better handled them and avoided the crash. 
Now, Michael wears the lenses to play golf, so he can see the green and avoid wearing sunglasses that can get in the way of his play. Despite having some anxiety about getting back on his bike, he finally returned to his Ironman training wearing his lenses. That security blanket helped him feel better about getting back to what he once loved, trusting that his visual clarity would be significantly improved and could help him prevent a similar accident in the future. 
On May 21, 2023 in Chattanooga, Tennessee, Michael made his comeback, competing in his first half Ironman since his accident. He wore the amber ALTIUS lenses for the competition and found they helped him find the edge he needed to not only finish strong at 5 hours and 26 minutes, but set a PR by 10 minutes!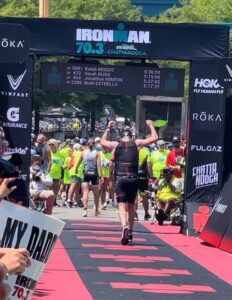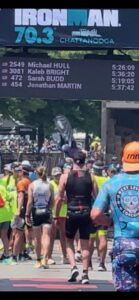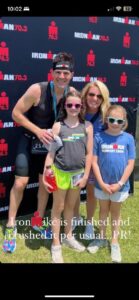 "The lens made the biggest difference on the run as I was not squinting the whole time. I feel this allowed me to keep my heart rate under control a little better. Not to mention my head didn't hurt. I just can't run in glasses as I sweat so much. Second best was how amazing they were on the ride. There were a lot of shadows on the road and they did not bother me at all. I seriously can't thank you guys enough and none of this would have been possible without ALTIUS." 
We look forward to following Michael on his journey as he continues to compete and crush his goals!